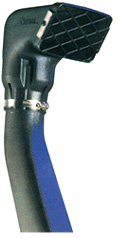 SOME OF THE MOST POPULAR FOUR WHEEL DRIVE VEHICLE HAVE THEIR AIR CLEANER PICK UP POINT RELATIVELY LOW AND, FRANKLY, ARE EXTREMELY SUSCEPTIBLE TO SUCKING IN MUCH MORE THAN JUST AIR. TO PROTECT THE MOTOR AND SUPPLY CLEAN AIR IT IS ADVANTAGEOUS TO LIFT THE AIR DUCTING HIGHER.

Todayís 4WD engines are sophisticated machines and to optimize trouble free touring, especially in 4WD conditions, a snorkel is essential insurance to protect your engine from ingesting water on deep water crossing, and from choking on dust in the outback.

The safari snorkel is the largest in the body size available, and this ensures air supply in excess of engine requirements for both petrol and diesel engines. In particular, turbocharged diesel vehicle will benefit from cleaner, cooler air resulting in better performance and longer engine life. The safari snorkel is moulded to suit vehicle lines and will enhance the flow of air to improve fuel efficiency, engine performance, and most importantly, engine durability.
"The river never seemed so deep..."
Manufactured from premium quality polyethylene, safari snorkels are ultraviolet stabilized which ensures they will not be affected by the sunís rays.

Safari snorkels look good on your vehicle, are completely Australian designed and manufactured and are in service in every continent around the world. Components are custom designed for each particular vehicle make.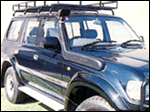 STANDARD SNORKEL FITMENT (LANDCRUISER 80 SERIES)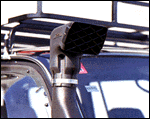 STANDARD SAFARI AIR RAM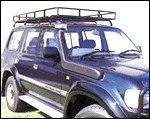 OPTIONAL 7" PRE CLEANER