ARB canopies feature a grained exterior finish and heavy duty aluminium bed rails, with double rear door locks providing the utmost security within your canopy.
Greater ventilation - ARB canopies come with a sliding front window as standard.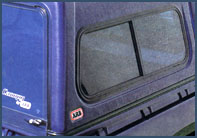 Tinted, tempered glass windows are fully lockable. As well as protection from the sun's harsh rays, your belongings are stored within a secure environment. Flyscreens are fitted to all side sliding windows allowing ventilation without having to worry about unwanted pests.